Kat & D
Nutcracker & the Four Realms (2018)."I've been expecting you."
This week we enter the realm of over stylized settings and over the top everything including Mogran Freeman as Willy Wonka and perhaps the worst possible choice for a movie villian casting we have ever seen. It's Nutcracker and the Four Realms from 2018.
Storyline :All Clara (Mackenzie Foy) wants is a one-of-a-kind key that will unlock a box that holds a priceless gift from her late mother. A golden thread presented to her at godfather Drosselmeyer's (Morgan Freeman's) annual holiday party, leads her to the coveted key which promptly disappears into a strange and mysterious parallel world. It's there that Clara encounters a soldier named Phillip (Jayden Fowora-Knight), a gang of mice, and the regents who preside over three Realms: Land of Snowflakes, Land of Flowers, and Land of Sweets. Clara and Phillip must brave the ominous Fourth Realm, home to the tyrant Mother Ginger (Dame Helen Mirren), to retrieve Clara's key and hopefully return harmony to the unstable world.
Directors: Lasse Hallström and Joe Johnston
Writers: Ashleigh Powell, E.T.A. Hoffmann, and Marius Petipa
Stars: Mackenzie Foy, Keira Knightley, Morgan Freeman, Jayden Fowora-Knight and Helen Mirren
Awards: 1 Wins & 8 Nominations
Film Budget: $120,000,000
Gross Worldwide: $173,961,069
I mean it wouldn't be the Nutcracker anything without the classic Nutcracker Suite music .
For the love of all that is sacred in movies...we could have really done without this long ass boring scene....
If you don't believe us on how BAD Kiera Knightley is in this movie...please see for yourself.
Let the mystery unfold.
At the beginning of the ballet telling the story of the Four Realms, the conductor mounts the podium and conducts an orchestra appearing in silhouette. This is a tribute to Fantasia (1940), which included a segment based on "The Nutcracker Suite".

The family's surname, Stahlbaum, is German for "steel tree".

Miranda Hart was announced to have been cast as the Dew Drop Fairy, but the character does not appear anywhere in the released cut.

The Nutcracker and Drosselmeyer are played by black actors for the first time in any filmed version of the story.

According to Mackenzie Foy, as soon as she saw the mass of rats completed in post-production, she said, "I wanted to throw up" as the sight of rats terrified her.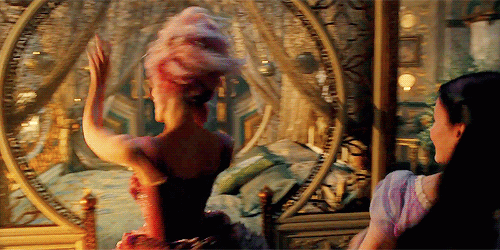 This movie might be ok at best during Christmastime but if you do desire to check it out for yourself you can do so right here on Disney+
https://www.disneyplus.com/video/b846534b-4fbc-40d9-b3d3-28fe79e38355?distributionPartner=google
#disney #disneyplus #disneymovies #disneypodcast #movies #movieoftheweek #movietime #moviereview #moviepodcast #disneymovieinsiders #disneydiscussion #moviecommentary #disneylife #disneyfans #wdw #nutcrackerandthefourrealms #kieraknightley #disneyliveaction #mckenziefoy #morganfreeman #helenmirren #nutracker #ballet #nutcrackermovies